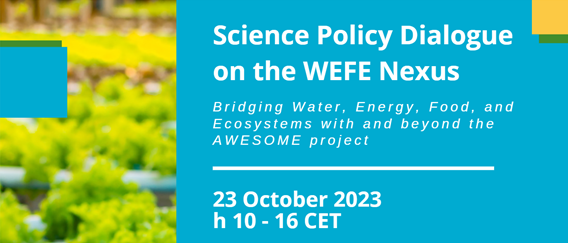 The Science Policy Dialogue on the WEFE Nexus: Bridging Water, Energy, Food, and Ecosystems with and beyond the AWESOME project, is a one-day event where members of the scientific community, media and all involved stakeholders are expected to share project results, discuss their impact, exploitation opportunities and wider implications to develop policy roadmaps for the uptake of WEFE Nexus approach in the MED region.
The agenda is the following:
10:00 – 10:10 – Welcome/greetings

10:10 – 10:30 – Comments by Project Officer Ali Rhouma (PRIMA)

10:30 – 11:00 – Project overview by Andrea Castelletti (POLIMI)

11:00 – 11:30 – Coffe break

11:30 – 12:10 – First back-to-back presentation, with Ali Karnib (Lebanese University) and Marta Castellini (FEEM)

12:10 – 12:50 – Second back-to-back presentation, with Mohie Omar (ICARDA) and Demet Cekin (RWTH)

12:50 – 14:00 – Lunch break

14:00 – 14:40 – Third back-to-back presentation, with Kevin Wheeler (University of Oxford) and Matteo Giuliani (POLIMI)

14:40 – 16:00 – Science-Policy Round table:

Giulio Boccaletti,

Laura Bonzanigo, Andrea Castelletti, Fahad Kimera, Mohie Omar, Ruslana Palatnik, Ali Rhouma, Kevin Wheeler. Moderated by Ilenia Romani.
Find here the full programme.
Find here the online registration link.